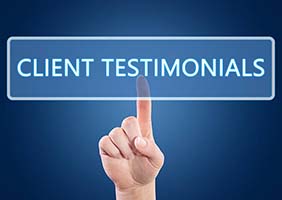 Here are some of the things that our customers are saying about us.
"Our new upholstered chairs are great. The service was kind and efficient. You will not find a better price. If you know what good for your business you will call MIKE."
Laura - Park Dental, Duluth
---
"Tremendous work on recovering both of my 22 year old chiropractic tables! My patients were all asking if I got a new table because they looked brand new."
Gary Rupp - Hastings Chiropractic
---
"If you need new upholstery for your medical tables I would strongly recommend Specialized Services. Mike does quality work. I like the fact it is done in house, no down time to speak of. I have had two tables recovered and the last table patient's have asked if I bought a new table. It looks that nice. Thanks Mike."
Steve Finala, D.C.
---
"I have used Mike multiple times for our chiropractic tables at our clinic! He does a great job! Thanks, Mike!"
Jeffrey Soltis D.C. - Soltis Chiropractic
---
"I have worked with Mike on many dental chair projects over the years. His work is top notch, great communication, and exceptional serveice. I have recommended him to many friends and will not hesitate to work with him in the future!"
Dr. Ryan Clouse D.D.S. - NE Dental Wellness
---
"We had a great experience using Specialized Services to reupholster our exam chair. Mike was super easy to communicate and schedule with. We were able to arrange for pick up and delivery at a time that didn't interfere with clinic flow and the quality of the product delivered is fantastic! I would highly recommend using Specialized Services!"
Jaclyn Doffin - White Bear Optometry
---
"Mike has helped repair a couple of our roller tables here at the clinic. He is super easy to work with and has flexible scheduling. We have had no issues since he has repaired and reupholstered our equipment. Would recommend to anyone!"
Dr. MacKenzie - Crosstown Chiropractic
---
"I have used Speciaized Services upholstery for many years for taking care of my chiropractic tables. Mike has always done a fantastic job. He is a craftsman and meticulous. I appriciate that he comes in after hours with his equipment and gets the job done, such that we can be operational no downtime."
Dr. Art Volker - Comprhensive Chiropractic, Cambridge
---
"Mike Fenton has kept our clinic looking top notch for many years by re-upholstering our adjusting tables as soon as they start to show wear. He brings his equipment in to the clinic and does all the work right in the rooms! No moving tables around and no disruption in patient flow. His work is detailed and when he is done, the tales look brand new and his prices are reasonable. I Highly recommend Mike Fenton for any chiropractic table upholstery work!
Barbro Brost D.C. - The Broast Clinic, Wayzata, MN